Weddings In The UK: Useful Tips And Venues Post Covid-19
The UK is full of luxurious hotels, elegant banqueting rooms, and chic restaurants. Finding the right wedding location in the UK is considerably more manageable when focusing on one area.
We have all had a tough couple of years with COVID and we wanted to help our readers who are now starting to plan their weddings ease back into the process. The UK certainly has some good options.
The UK is a favorite choice for couples.
Various small, medium and extensive event facilities are distributed across the neighbourhood. Take a look at our most popular selections of UK wedding venues to narrow your search.
1. Andaz London Liverpool Street
Andaz London Liverpool Street is a unique Islington wedding venue located on the doorstep of London Liverpool Street station. It represents the creative energy of the neighbourhood. The 5-star hotel is a doorway to a labyrinth of distinct event venues, both large and small. It boasts an artful blend of original qualities and recent restorations.
2. Drapers Hall
At Drapers' Hall, history oozes through the cracks in the walls. If you're looking for an Islington wedding location with age and character, this could be the place for you. Drapers' Hall is located in the heart of London City, and it's royal and grand interiors will take your breath away.
3. The Brewery
The Brewery is a massive former beer factory that has been renovated into a fantastic event facility that can accommodate up to 600 people. Its enormous capacity, charming decor, and knowledgeable events staff combine to make it the ideal dry hire venue for huge Asian and Jewish weddings.
4. Duck & Waffle
There aren't many places like this in Islington. During the day and at night, you can see the London skyline from Duck and Waffle above the rest.
The large restaurant area is flexible and versatile because you can move all the furniture to make the space look the way you want it.
5. Plaisterers Hall
Plaisterers' Hall, a wedding location in Islington, has a rich history and a very old-world feel. As a keeper of history and custom, the Livery Hall serves as a beautiful setting for wedding ceremonies.
Plaisterer's Hall is the largest in central London, with neoclassical architecture intact for Livery Halls.
6. Iron Mongers Hall
Many charity balls and regal occasions have taken place here. Your wedding day may be the next private event to be recorded. The impressive architecture is royal without being stuffy, and the interior is warm all year.
Ironmongers Hall is a beautiful Jazz Age building. It's not overpowering, so add your blossoms and ornaments to make it your own.
Castles For Weddings UK
7. Warwick Castle
It's hard not to be impressed by Warwick Castle.
In addition to the magnificent Great Hall, this Midlands wedding location offers a fantastic falconry performance for your special day.
The Tower Suite features a four-poster bed located in the Earls of Warwick's former party venue.
Warwick is the gold standard for castle wedding settings.
Are Zoom Weddings Legal In The UK?
While in the United States, an officiant or registrar can conduct an online marriage ceremony via Zoom; this is not permitted in Britain.
UK Weddings On A Budget
8. Coul House Hotel
A residential wedding gives you and your guests the use of our country house (in peak season, April-September, a minimum of two nights B&B is required) and the undivided attention of our complete team. This creates the ideal setting to relax and enjoy this wonderful occasion with loved ones.
Quickie Weddings UK
9. Warwick House
Warwick House's exclusive use and solid ties with local suppliers to ensure the success of last-minute weddings. They can organise your wedding ceremony, reception, and accommodation and collaborate with other vendors to arrange for your cake, DJ, and more.
How Much Are UK Weddings, UK Weddings Average Cost?
According to experts, the average wedding costs between £18,000 and £32,000, but there are methods to save money.
Check out some of our recommended wedding products to get started.
What Is The Perfect Wedding Song
John Legend's romantic ballad "All of Me, " the number one choice," available on iTunes. However, even though contemporary hits dominated the list, several classic songs were included, including "You Are The Best Thing" by Ray LaMontagne, "At Last" by Etta James, and "Can't Help Falling in Love" by Elvis Presley, to name a few.
Wedding Videographer UK
When you hire a wedding videographer, please take a look at their previous work to understand their style. Check out their work and see whether it's something you like beforehand.
Humanist Weddings UK
In England and Wales, a humanist or other nonreligious belief marriage cannot currently be legally binding (unlike in Scotland and Northern Ireland). Reform calls, a previous Coalition Government consultation, and a failed legal challenge have all failed. The Government said it would decide how to proceed once the Law Commission makes its recommendations in July 2022.
Can You Get Married On The Beach In Wales?
Unlike Scotland, where you can legally marry with your toes in the sand, you cannot legally marry by the sea in England, Wales, or Northern Ireland unless you exchange your vows at a licensed venue on the beach with a sturdy roof.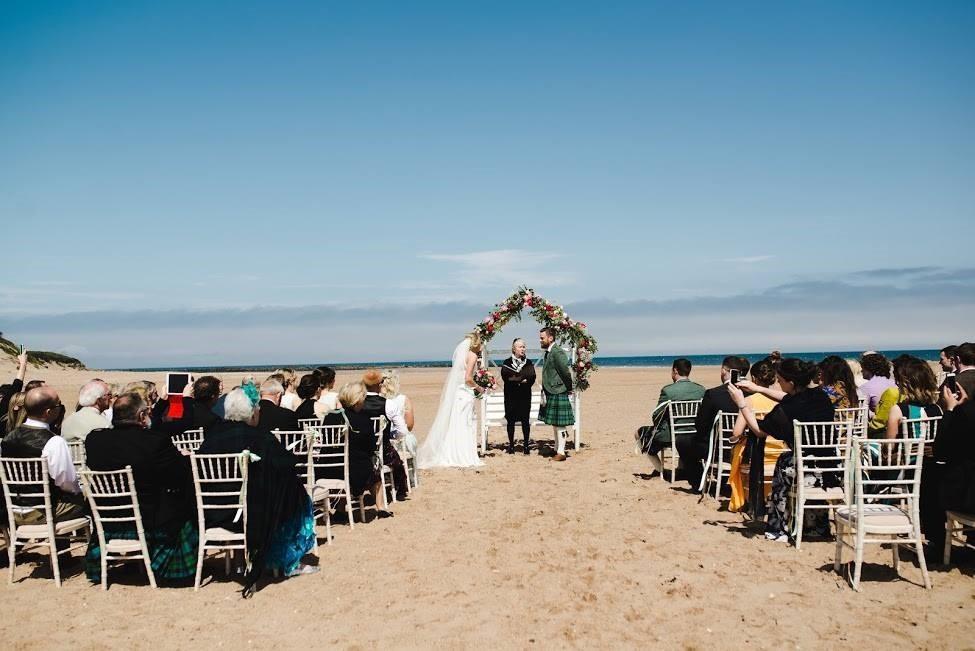 How Much Is A Wedding With 100 Guests?
Even if it varies depending on the price of a plate, most receptions for 100 people cost between 35,000 and 310,000, with an average cost of roughly 37,000. Average expenses to cater a reception might vary depending on the type of catering provided and the cuisine served, both of which impact the cost per plate served.
Why Is Choosing The Right Gown So Important?
Although the wedding dress has historically symbolized the end of a woman's individuality and the beginning of a new life as a wife, it now, more importantly, represents the end of singlehood and a new relationship and commitment
What colour should my wedding be?
What type of colours should a bride select? Unless you're trying for an ombre or a neutral effect, the general rule is to limit your colour choices to a maximum of three hues. Choose a metallic colour to bring your palette together as an accent colour. If you decide to use more than three distinct colours throughout your wedding your reception may look like a colour explosion.
Conclusion
Congratulations on your engagement! the Yum yum mama team wishes you and your partner a long and happy life together.
We hope you have found the perfect wedding venue and have the most magical time during your special day. Let us know if you have tried out any of are top venues.