Top 8 UK Weekend Breaks For Families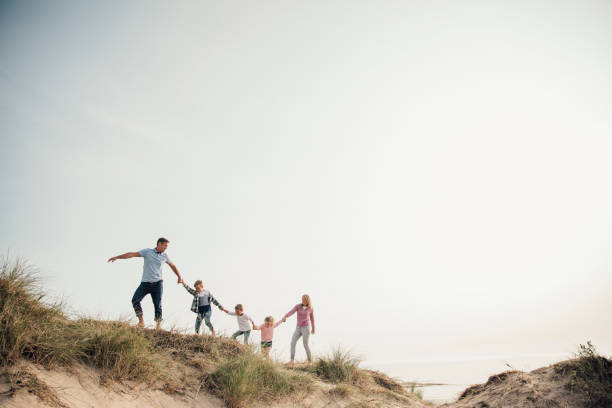 Are you unsure about where to go or what to do? Whether you like lengthy walks in the countryside, getting pumped up on a thrilling rollercoaster, or prefer paddling on a tranquil river, the United Kingdom offers a wide range of family activities to offer, particularly for short family getaways. Listed below are our top 8 family weekend vacations and entertaining activities for both adults and children.

Please double-check that venues are running as usual due to some limitations imposed due to the Coronavirus outbreak.
So, here are our top 8 weekend breaks for the family in the UK.
1.) Cheshire, UK
Enjoy a family getaway in the countryside in Cheshire for 1-3 nights. Stay at the Wychwood Park Hotel for a beautiful vacation. You'll have access to free Wi-Fi, a flat-screen TV, a hairdryer, an iron, and tea and coffee making supplies in your accommodation. As part of your package, you'll get a hearty Full English breakfast each morning.
For supper and a bottle of wine each night during your stay, you may dine at the Fairways Restaurant. The hotel's two restaurants serve up a substantial fare, and the bar is a great place to wind down after a long day. Beautifully manicured gardens and an 18-hole golf course can be found on the property.
Rooms at this hotel are adjacent to Crewe's railway station, making it convenient to go about the city. Lyme Park and Tatton Park, two of Cheshire's finest stately mansions, are a must-see for any history buff.

Visiting Delamere Forest is a great way to get a taste of the countryside.
2.) Newcastle Upon Tyne, UK
With complimentary Wi-Fi, an en suite bathroom, and 24-hour room service, you'll be able to relax in your accommodation. Every morning throughout your stay, have a hearty full English breakfast. Tea and coffee making facilities are also included in the room's large work area. The Empire Restaurant has a wide variety of delectable options for you to choose from.
The Sage Gateshead, Newcastle's answer to Sydney's Opera House, is the perfect place for a nighttime selfie.
Visit Ouseburn, the city's cultural epicentre, where you'll find fantastic bars, restaurants, and more. In addition to watching a football match at St. James Park, there is also the Biscuit Factory for those who are not interested in sports.
3.) Bournemouth, UK
Spend two nights in one of the most beautiful seaside towns in the UK, Bournemouth. Having a great time at Ocean Beach Hotel & Spa is a guarantee! Freeview LCD TV, hairdryer, tea/coffee maker, and toiletries are all included in your room's amenities. Because breakfast is included in your room rate, you may choose from a variety of hot and cold options.
Arrive at the hotel and have a cup of coffee and a piece of cake. The hotel is situated on the East Cliff, right on the water's edge. After dining at one of the hotel's two restaurants, relax in the lounge bar. Take a refreshing plunge in the outdoor pool, then unwind with a spa treatment or two.
Cruise the English coast on a Harbour & Islands Tour. On the second day of your vacation in Poole, take a 70-minute tour around the town.
4.) Manchester, UK
Enjoy your stay at the Townhouse Hotel Manchester, a four-star establishment. With a 32-inch LCD TV, air conditioning, a hairdryer and tea/coffee amenities, you'll be able to relax in your accommodation.
Full English breakfasts are included in the price of your room so that you can start your day off well.
The 101 Bar & Restaurant within the hotel serves up a diverse cuisine and a wide selection of craft beers and beverages.

As the hotel is situated in the heart of the city, guests have easy access to the city's attractions. Visit the Manchester Art Gallery, which is home to almost 25,000 pieces of art! Visit Manchester United's Old Trafford Stadium to see a game of football.
5.) Scottish Highlands, UK
With only a few nights in the Scottish Highlands, you can take in some of the most breath-taking vistas in the country.

Stay at the Highlander Hotel for a night or two. Stay in a comfortable room that includes a television, hairdryer, as well as a cup of tea or coffee. Use the free hotel lounge to stay in touch with loved ones back at home. Wi-Fi is also included.
You may savour some of the best local and fresh cuisine at the restaurant. Play a game of golf or just take in the scenery at one of the neighbouring courses. The Cairngorm Mountain is only a short distance away, and it's eager to be climbed. Visit the Dalwhinnie Distillery for a taste of single malt Scotch whiskey.

6.) Edinburgh, UK
Book a room at Edinburgh's The Bonham Hotel and start exploring the city or just unwinding. Begin each day with a hearty breakfast at the hotel.
There is a selection of breakfast, earl grey, and fruit teas on your welcome plate. In addition to decadent hot chocolate, mouth-watering shortbread, and delectable cafetiere coffee,

The Bonham Restaurant's A La Carte Menu features seasonal and local products and Hypnos mattresses for a restful night's sleep. They have provided you with a Segafredo coffee maker and a mini-fridge to cool you down. After the Rain No.35, toiletries and rainfall showers are also available.

Take a peek at Edinburgh Castle, which sits atop Castle Rock and overlooks the city. Take a stroll up Arthur's Seat, one of the most iconic hills in Edinburgh. Visit several clubs or see a play at Edinburgh Playhouse to see the city's more modern side.
The Charlecote Pheasant Hotel
Consider spending one, two, or more nights in Stratford-Upon-Avon, the birthplace of William Shakespeare. Make yourself at home in a room with complimentary Wi-Fi, an LCD TV, tea/coffee making amenities, complimentary toiletries, and a complimentary bottle of prosecco. The Charlecote Pheasant Hotel will be your base of operations throughout your stay.

Explore the childhood home of William Shakespeare - he grew up there - as your first visit. As part of your stay, you'll have access to complimentary breakfast. Enjoy a drink at the bar or perhaps a cup of tea in the afternoon.
The Royal Shakespeare Theatre is a great place to see one of Shakespeare's works. The Stratford Butterfly Farm is a wonderful place to get lost in nature, with butterflies, birds, insects, and more!
Bermondsey Square Hotel
Indulge in a well-deserved rest and relaxation at the Bermondsey Square Hotel. With a vibrant community in the Bermondsey neighbourhood, you'll find Bermondsey Square.

Cleanliness and comfort are the primary goals of this 90-room boutique hotel's design. It is just a short walk away from the Design Museum, Borough Market, The Tower of London, and the Tate Modern. You may start your day off well with a complimentary continental breakfast.
Take a look at the London Eye or Big Ben while you're here in the city.


There are so many fantastic spots in the UK for families to enjoy. If you're looking for a break this weekend, we highly recommend exploring one of these locations!