HOW TO GET RID OF FACIAL CELLULITE AND WHAT IT IS?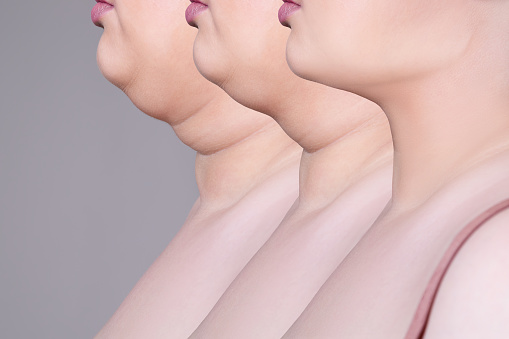 Cellulite— we all have either heard of it or have them. Those harmless little dimples that appear on our body that we keep telling ourselves are completely normal and natural, right? Even those seamlessly firm bodies we see on Instagram have them. However, what should you do if cellulite or even marionette lines begins to appear on your face? It is possible to make a difference in the look of facial cellulite by following a balanced diet, using certain skincare products, and even receiving lymphatic massage. So let's get exploring, what causes face cellulite and what can do to avoid it in the future? Read on to find out.
WHAT IS FACIAL CELLULITE AND WHY ON OUR FACES?
As if us as women dont have anything else to worry about, now we have the challenges of facial cellulite, in addition to other ageing concerns such as wrinkles and fine lines.. Therefore, in order to really understand it and be able to cure it, we must know why it appears in the first place. Essentially, cellulite is fat deposits in tissues situated under the skin that cause the skin to seem uneven and dimpled (think cottage cheese skin? ).
This video also has a good explanation of how cellulite forms.[1]
While men can also get cellulite, it is alot more prevelent for women. A rough estimatation is that up to 90 percent of women will develop some degree of cellulite over their lifetimes.
Cellulite on the face occurs predominantly on the neck and jawline, and it may arise for a number of causes, including pregnancy and weight loss.
Although the exact causes of face cellulite are not known, skincare experts believe that one or more of the following conditions may contribute to the development of facial cellulite:
Anything that quickens the ageing process should be avoided (unhealthy diet, alcohol, smoking, sun damage, etc.)

Changes in hormone levels

Gaining weight
IS IT POSSIBLE FOR ME TO GET RID OF IT?
Despite the fact that face cellulite is difficult to cure once it arises, there are certain things you may do to reduce the look of the condition.
We suggest that you first consult with a skincare specialist or dermatologist about what you are experiencing and what actions you may take to address it as quickly as possible. Consider adopting some healthy lifestyle modifications while you're at it, such as the following:
Consume a nutritious, low-calorie diet (once you lose weight in your face, cellulite may become less noticeable)
The Healthy Skin Kitchen provides you with delicious, allergy-friendly recipes that will help you create radiant skin from the inside out. Tailor your meals to suit you or simply follow Karen Fischer's skin care regime for optimal results. With gluten-free, dairy-free, low salicylate, low histamine, vegan and autoimmune paleo options, this cookbook has something for everyone. It has been especially popular for reducing fat to help aid in the loss of facial and body cellulite.
Exercise on a regular basis.
Check out this article on exercises you can do at home to help with shedding the weight[3]
We know it sounds a bit like a broken record, but you need to ensure you drink plenty of water daily. If water is not your thing, set a timer.
Massage your lymphatic drainage system to help reduce toxins in your body while simultaneously boosting the look of your skin.
Try this product to slim down and get rid of cellulite with Mr. Woodware Mini Maderotherapy! This professional wooden massage tool is perfect for classical maderotherapy – a natural massage technique that has been used by Eastern cultures for centuries. With this massage tool, you can stimulate lymphatic drainage, break fat cells, and improve blood and lymph flow throughout your body. So ditch the harsh chemicals and invasive procedures – Mr. Woodware Mini Maderotherapy is here to help!
Consider making changes to your skincare regimen to combat the signs of age, firmness, and brightness.
This rich, hydrating cream contains the energizing benefits of caffeine to help tone and minimize the appearance of cellulite. Shea and cocoa butter keep your skin moisturized, while providing a gentle cocoa butter stretch mark cream for old stretch marks. Tone and hydrate your skin with this delicious coffee-scented lotion.
So let us know, how you used any of the above products to help minimise the appearance of facial cellulite? Let us know in the comments below.
Interested in other ways to help deal with facial cellulite, check out this article which outlines more uncommon but effective techniques.[4]
Links
1.) Lymphatic Drainage Massage: What it Is, Benefits & How To Do It (clevelandclinic.org)
2.) Lymphatic Drainage Massage: What it Is, Benefits & How To Do It (clevelandclinic.org)
3.) Does exercising get rid of cellulite? – Yum Yum Mama (yumyum-mama.com)
4.) (1) Cellulite on face: How Do Get Rid Of It | Yum Yum Mama (yumyum-mama.com)
5.) (1) How To Deal with Cellulite, A Double Chin and Excess Fat in 2022 – Yum Yum Mama (yumyum-mama.com)