The Dos and Don'ts of Using Night Lights (And Our Top 5 Night Light Recommendations)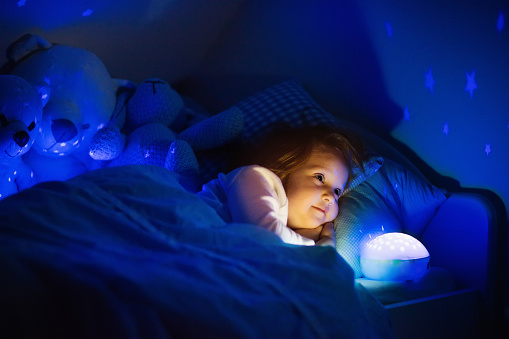 Nightlights are one of the most common baby products for new parents. You want to create a safe environment in your child's room, but you also want to be able to see them during nighttime feedings and diaper changes so they don't get scared when they wake up. Nightlights are beneficial in more ways than one, but it's important that they aren't used incorrectly or improperly to ensure the safety of your child.
We put together a brief list of do's and don'ts for using nightlights so you can be sure you use yours properly. Our list also includes our top five night light recommendations for your child.
Do use nightlights in the nursery to create a safe environment during nighttime feedings, diaper changes and just when they have to get up at night to go potty. It's helpful for mommies and daddies who want to avoid turning on bright overhead lights or using flashlights while they're half awake. Using a nightlight will help you see what you are doing more easily so you can tend to your baby's needs with ease.
There are many different types of nursery lighting solutions out there, but most experts agree that incandescent is still the safest option over LED, halogen or CFL bulbs that might use heat to emit light. Most nightlights are designed with an incandescent bulb, so you don't have to worry about sending too much heat into your child's room or over-exposing them to artificial light at night.
Introducing the perfect sleep aid for your little one - the Toddler Sleep Aid Night Light! This adorable elephant night light not only projects a beautiful starlight scene, but also plays 10 different calming lullabies. The best part? It automatically shuts off after 30 minutes. So whether your baby is having trouble sleeping through the night or just needs a little help relaxing, this plush owl is here to help.
Do know how low you can dim the lights in your baby's room before it is too dark for them to sleep comfortably. The American Academy of Pediatrics recommends keeping nursery night lights on at a brightness level no higher than 10% [1]. Dimming the lights will help ease your baby into sleep and will allow you to check up on her while still offering some sort of light source in the room if she wakes up and stirs during the night. If you need more light nighttime diaper changes or feedings, use the dimmest bulbs possible.
If you're looking for a soft and comforting light to help your little one fall asleep, look no further than the Night Light for Kids with Timer. This projector features a rotating scene of stars and calming colors that will soothe your child into dreamland. With this handy nightlight, you can relax knowing that your toddler is safe and sound in bed.
Don't keep your nightlight on all night long. Most pediatricians recommend turning off nursery lights after 15 minutes of uninterrupted sleep to give your baby time to fall into a deeper sleep if she stirs during the night. If you want to be able to see your child for nighttime care purposes, having two different light sources is also helpful so you can carry one around with you while still making sure there is some sort of light in the room for her to go back to sleep comfortably without waking up fully.
Introducing the Munchkin Light My Way Nightlight! This super cute little owl is perfect for babies and toddlers. It casts a warm glow, and automatically shuts off after 15 minutes. If your toddler wakes up in the middle of the night, she can easily press a button to get another 15 minutes of light. Plus, it's small and portable so it's perfect for on-the-go.
Do check that your nightlight has an automatic shut-off function or sensor that turns it on when it detects movement and then shuts it down again after about 15-20 minutes. This will help to ensure that your baby doesn't stay awake and that he or she gets enough uninterrupted sleep for proper development during those first few months. There are many nightlights out there now with this feature, especially those designed as plug-ins to keep them close at hand during nighttime feedings and diaper changes.
Introducing the Hatch Baby Rest sound machine, night light and time-to-rise alert! This multi-functional device can be customized to meet your family's sleep needs. You can control it remotely via the easy-to-use Hatch Baby Rest app, so you never have to disturb a sleeping baby again.
Don't use nightlights as a replacement for windows in the nursery. Nightlights inside of a child's room should never be used instead of natural lighting coming from outside. If you have a large window in your baby's room, it is best to leave it uncovered so they can see sunlight coming through each day. Artificial light overstimulates babies and prevents your child from having normal sleep patterns.
The Plug in Dusk to Dawn Light Sensor Auto on/Off LED Night Light is a life-saver for parents of newborns! This little light plugs into any standard outlet and automatically turns on at dusk and off at dawn, providing just the right amount of light for late-night diaper changes and feedings without keeping your baby awake. Plus, it comes in a fun amber color that will add a touch of cheer to your nursery.
Do place nightlights in areas where there are no potential hazards in the baby's room. Since most nightlights plug into outlets, it's important to avoid electrical cords that aren't completely out of your baby's reach. If you are placing a nightlight on an outlet inside of the crib, make sure it is plugged directly into the wall socket by itself rather than through extension cords or power strips . This could be an electrocution danger for your child if they get their fingers or objects near exposed prongs on electrical plugs or outlets.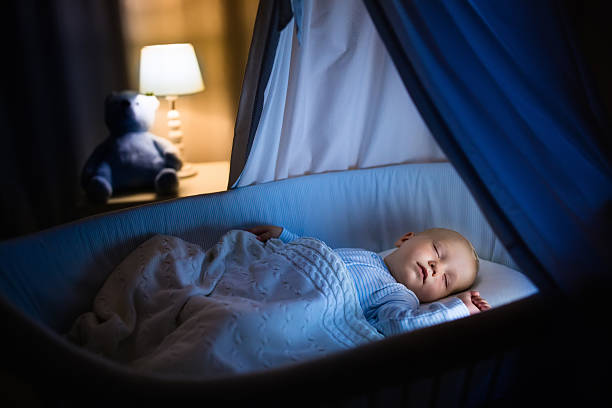 Don't shine the light directly into your baby's face when he/she is sleeping. Nightlights should be placed behind or on either side of the crib at a height that won't shine directly into your baby's eyes. If you notice their vision is becoming easily strained, you can cover up the nightlight with a small cloth or towel to diffuse the light and spread it across the room more evenly rather than just shining straight into his/her face.
On top of all these guidelines, we would like to mention few safety rules:
Safety Rules
1.) Don't place any object inside the electrical outlet and don't use extension cords or power strips for nightlights as they present an electrocution danger if your child puts her hands near exposed prongs or plugs them in themselves. Don't plug any electrical appliances into outlets where your child sleeps. Don't use table top night lights in the crib or anywhere where your baby is sleeping since they can easily be pushed to the floor by a crawling or climbing baby.
2.) Don't buy any sort of nightlight that has an electrical cord attached to it when your baby is less than 6 months old, since cords and dangling objects pose a strangulation risk for infants and toddlers. Only purchase cordless or battery-operated nightlights after this age when you know your child is beyond this stage in their development.
3.) Always unplug and remove all nightlights from outlets when they aren't being used so that no one else who may come into contact with them, including older siblings, can plug them back in without supervision.
4.) Most of today's nightlights are designed to automatically shut off after 15-20 minutes. This feature will help ensure that any light in the room doesn't stay on all night, which could overstimulate your baby and prevent him/her from getting enough uninterrupted sleep. You can also purchase ones where you can simply set a timer for this purpose if none is available already with the model you buy.
5.) If you use a traditional lamp as a nightlight near your child's bed, supplement it with another corded or battery-operated one so there is some sort of light available to them at all times without having to go into complete darkness. If they awaken full of fear during the nighttime hours, you don't want them to be frightened in the dark. You can also get clips that attach to your child's clothing which are designed to hold glow sticks, reflective tape or glow-in-the-dark stars if you prefer not using nightlights.
6.) You should stay with your child until he/she falls asleep every single time. Then, you can leave their bedroom for short periods of time while they are sleeping, but don't turn out all the lights since it still might seem scary to them at this age. If you must exit even temporarily after saying goodnight, use a dim nightlight near your baby's bed so they know what is going on inside the room so they aren't scared by the dark.
7.) When transitioning your baby or older child to his/her own big kid bed, you can gradually reduce the number of nighttime visits and length of time that you stay there each night with him/her if their fear is related to separation anxiety, but if their fear of the dark is more due to a fear of one (or more) particular scary thing(s), don't try to force any alone sleep times until they are ready. Read our article about helping your child conquer fear of the dark for further guidance on how long this process might take and what you can do along the way to get through it with greater ease.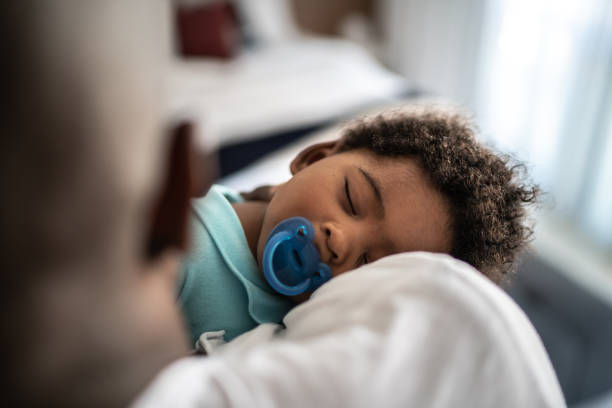 As always, we invite open dialogue in our comments section below about anything brought up here. We know many parents who are struggling to keep their babies and toddlers safe at night without resorting to letting them sleep in bed with them, especially those of you who would like to establish independent sleep times for your children but don't feel it is the right choice for your family.
You may also want to check out our post on how to create nighttime routine so that your baby can better understand what they should do when darkness falls each day. For instance, if their routine every night after dinner is bathtime followed by a bedtime story and cuddles with you before lights out, they will likely come to anticipate that this is the way things are supposed to go down every night. Then, if their routine changes for some reason or an unexpected disruption occurs, your child may not sleep as well since his/her body isn't used to expecting anything different than what they have come to expect throughout the rest of the day.
You can also read our article on how to calm fussy baby during change for more advice about making these transitions easier on both yourself and your little one. You may find that reading books about nighttime fears geared towards toddlers or young children could help him/her overcome their own any time soon too.
You can consult other related articles on this site, such as how to stop toddler night terrors and what causes nightmares for more information on these topics.
Good luck with everything and we wish you many peaceful nights ahead!
References
1.) Reversing Day-Night Reversal - HealthyChildren.org