7 Excellent Cost-Effective Suggestions for a Fun-Filled Football Party
As an Amazon Associate we earn from qualifying purchases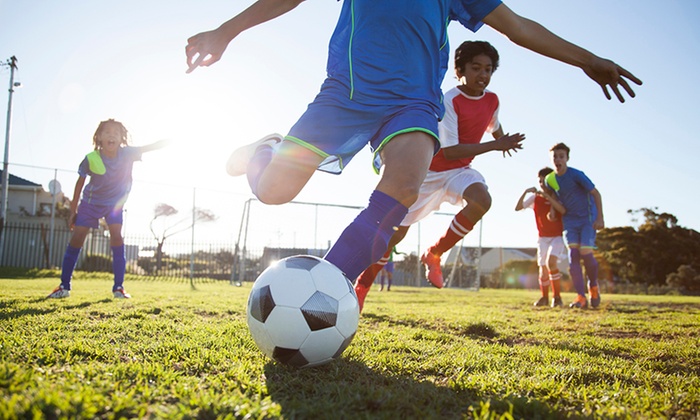 Nowadays, both children and parents expect their celebrations to be full-throttle. And they must be better than little Jimmy's pool party — you must not be seen to be outdone! A cheese sandwich, some jelly and blancmange, and a fast game of Swing ball used to be enough to make a kid's party a smashing success.
Children must leave with a bright smile on their face and a large celebration bag in hand.
Or, as we're sure your fellow parents will agree, an even better scenario is for the kids to leave flat on their backs and fast asleep, zonked out from all the wonderful activities you've planned.
In any case, those are the true markers of a fantastic party.
So, where do you start if you want to try your hand at awesomeness? What's even better than a kids' pool party?
What about a kids' football party?
So, assume you want to hold a kids' football party on your own turf; where do you even begin?
How can you make the day memorable other than a hasty 5-a-side football match that devolves into a fight, followed by a half-melted bowl of ice cream at full-time?
It's not as simple as it sounds, and there's always the risk that if you're not properly prepared and organised, you'll wind up with kids running around confused, balls flying everywhere, and you straining to deal with the mayhem while your fellow parents secretly mock you.
But don't worry, it's not impossible!
If you're organising your own kids' football party, keep reading to get some excellent ideas for what fun activities you can do on the day.
This training package is indispensable for football training , soccer, basketball drills, hockey, and athletes of all types. It's a fantastic workout / fitness gear and an absolute must-have kit for sport addicts, improving and assisting balance, rhythm, body control, and coordination. It will make a perfect addition to any kids football party.
With PE teachers, rugby and tennis players, coaches, and fitness courses all benefiting greatly from this package, the possibilities are unlimited. It's also ideal for making a fun obstacle course that's suited for both kids and adults, offering hours of enjoyment - and exercise!
The training ladder set includes ten sturdy plastic cones that may be used to demarcate training areas, warm-up drills, and shuttle-based workouts. Also included are 12 high-quality, long-lasting plastic rungs for training and exercise.
The ladder is 6 metres long in total, with each rung measuring 42 cm long, 2.2 cm wide, and 5mm thick. The package includes four nails to keep the agility ladder firmly on the ground when in use, and the dimensions per piece are 60 x 15 x 5 cm.
2. Football Goal Post -For Penalty Shoot outs
Net World Sports 8' x 4' FORZA Football Goal Locking Model - [The ONLY GOAL That can be left outside in any weather] (FORZA 8 X 4 GOAL (Locking))
This weatherproof 8ft x 4ft football goal post and net package is ideal for informal back garden games as well as extra training sessions and is guaranteed to deliver year-round football to children.
The goal frame is composed of high-strength uPVC and is finished in white for a traditional goal look. Along with the durable all-weather goal posts is a 2mm UV stabilised HDPE goal net that has been treated for exceptional protection against the elements and the damaging influence of rot, which can ruin inferior nets that are kept outside throughout the year.
The distinctive vital locking system is an original element of all FORZA goals. This unique locking system boosts the goal frame's strength and rigidity by securing the PVC posts into place and allowing it to withstand powerful shots. The basic locking technology enables the freestanding football goal to retain vital characteristics such as durability and portability.
Assembling this 8 x 4 FORZA football goal will not leave you perplexed. This PVC garden goal's quick and easy assembly requires the least amount of trouble, resulting in a fully set-up goal in minutes. 8ft x 4ft football goals are advised for usage by children under the age of 11, but this multifunctional goal has several functionalities that make it suitable for a number of uses. In addition to the best PVC goal posts and a weatherproof twisted net, sturdy net clips and u-peg ground anchors are provided for easy installation.
Perhaps not the favourite pick of the ordinary England supporter, but this is a tried-and-tested winner at kids' football parties, owing to the fact that the younger ones haven't yet experienced the major tournament heartbreak that their parents have!
This activity is simple to set up and control, and it does exactly what it says on the tin. A simple football party penalty shoot-out sport in which all players take a penalty and those who score advance to the next round in a knock-out style mini-tournament would be ideal.
Alternatively, you could use both sets of goals at the same time and have two teams compete against one other to choose the winning team, exactly like on TV!
The penalty shoot-out is an excellent way to improve children's focus and relaxation. This will assist you in getting things started in a controlled and organised manner, while the kids enjoy a fun and interesting challenge.
3. The Crossbar Climb
What kids' football party would be complete without the iconic crossbar challenge, we wonder?
This is a terrific game for players to enhance their skill-set, accuracy, and mental focus, whether striking the ball from a fixed distance or switching things up by getting closer to the goal and attempting to hit the bar with a header.
The Crossbar Challenge also teaches the newbies how to correctly head the ball (with more confidence than they even realised they had).
Set it up and compete to see who can strike the crossbar first!
4. The Quick Shot
This one is nice and straightforward, but you'd be surprised at how well it goes over.
Kids simply kick the ball as hard as they can towards an empty goal. The winner is the person who can kick the ball the farthest.
And, to ensure perfect accuracy in announcing a winner, download a football speed detector app on your phone so you can track the exact pace the ball has gone. Isn't it cool?
The Speed Shot activity promotes competition among children and is fantastic for eliciting a lot of cheering and laughter. And, of course, this will assist to maintain the kids' minds as sharp as a tiger's tooth!
5. The Match
What better way to cap things off than a 100mph, all-action, no-holds-barred game of football involving everyone?
Because you're nearing the finish of the event, try to be a little more flexible with the rules and organisation here. After a long day of controlled activities, now is the time to let the youngsters loose.
Among addition to encouraging healthy competition in children, you may be amazed at how often a 5-a-side football match demonstrates teamwork and collaboration without your intervention.
Kids learn how to contribute to the success of a team by being a part of one (or how to accept failure gracefully). You'll be relieved to discover that this has a favourable impact on their academic performance.
Because you've managed to cram so much into your schedule, you have various alternatives for awarding a medal.
You might have one for each activity (one each for the Penalty Shoot-Out, Crossbar Challenge and Speed Shot winners). Alternatively, you could simply set aside special party boxes for those children and award one medal to the player who scores the most goals during the game — a golden boot medal that the winner will undoubtedly remember for years to come.
Rewarding children who excel in various activities fosters positive self-esteem and inspires others to do the same. Inviting them to do something they enjoy while surrounded by their friends is a terrific method to boost their confidence.
Football party team activities aid in the development of friendships and a sense of belonging. It's also worth noting that any sort of sport teaches children how to deal with victory and disappointment.
Don't forget that you can create your own medal or buy one from here.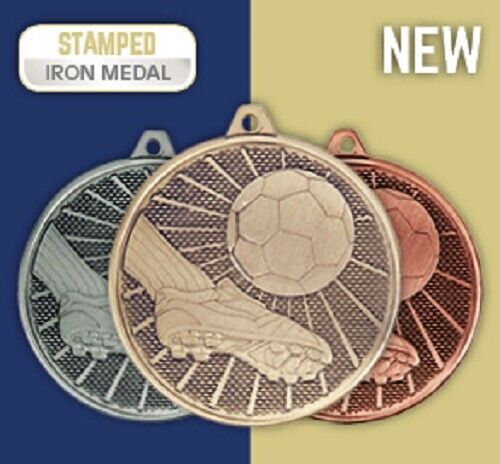 You can personalise this one with a special message to your guests and also comes with a free ribbon – it doesn't have to be solid gold! After all, it is the sentiment behind the reward that is important... because children adore gleaming objects
You could go crazy and buy a bunch of pound store toys, but why not offer one personal gift instead? Party favours that are reasonably priced include:
A soccer ball
A drinking bottle with a football motif
Sweatbands for Football
Plastic mini-trophies
Football decals
Caricatures of football players with large heads
And so on...
Check out these ones here.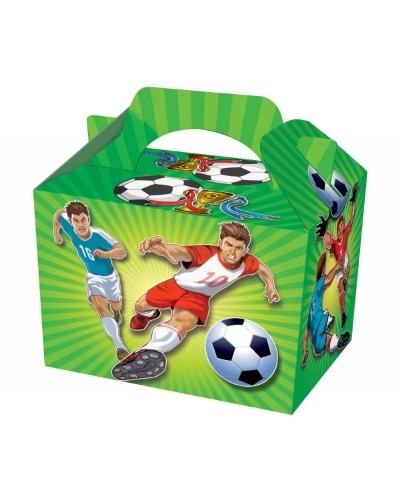 Each box is 15cm x 10cm x 10cm in size (the standard and most popular size). It's simple to put together and doesn't require any glue!
For transit purposes, each box is flat-packed. The side tabs make it easy to open and close.
Ideal for high-quality food, loot, parties, meals, gifts, goodies, wedding favours, and boxes. All hot and cold food substances are acceptable.
Made of high-quality, food-grade, biodegradable cardstock paper that is appropriate for a wide range of uses.
So what are you waiting for, give your little one the party of his dreams.